At BigBible, we want to keep ourselves alert to helpful resources as we study Scripture and live out our faith in digital culture. One of the resources we are recommending is John Dyer's book From the Garden to the City: The Redeeming and Corrupting Power of Technology. John was gracious enough to allow me to ask him some interview questions. Click here for part 1.
AB: What are two or three ways that online communication technology is changing the life of the church today?
JD: First, social media allows us to connect more throughout the week restoring some of what was lost in the move to larger cities and larger churches. I am hopeful that this may begin to dispel the idea that "church" is a place we do on Sunday morning to hear some talented singers and speakers perform for us. Facebook updates aren't exactly "Life Together" in the sense Bonhoeffer wanted, but it's still a step in the right direction. Second, many of us are reading the Scriptures on devices in our homes, around town, and even during church. It's only been a few centuries since Christians started using verse numbers which radically shaped the way the conceived of Holy Scripture. I think the move from a physical book with pages and sequence to the kind of endless content of a digital Bible will prove just as impactful.
AB: You have small children, right? Any counsel on how our technological devices and apps are to be managed within the home among our kids?
JD: Yes, I have a wonderful 4.5 year old boy and a 2.5 year old girl. My wife read some studies from the AAP (American Academy of Pediatrics) indicating that watching any TV before the age of 2 leads to a dramatic increase in ADHD, so we worked hard to keep them away from TV as much as possible in those important formative years. On my end, I try to keep my devices put away in the evening from the time I get home from work until they go to bed (typically from 6pm to 9pm). I've also begun intentionally using a printed Bible in front of my son rather than always using a device, because when he sees me with a phone, he can't tell if I'm working, playing a game, reading the Bible, or doing something naughty. I do just about everything on a laptop or phone, so at times I intentionally use an older tool to communicate what I'm doing and what I value.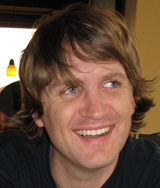 AB: Many of us might be a bit surprised to hear that the Bible has anything to say about technology. When you began research for From the Garden to the City, were you surprised at how much wisdom Scripture offered?
JD: Yes! When I initially starting thinking about technology my definition of "'technology" was really "recent electronic things." But when I began to broaden that idea to all kinds of tools stretching back to cars and airplanes, books and clocks, agriculture and shovels, I started to see how it was connected to the way the Scriptures talk about all human creations. Looking at technology in the broader category of "cultural goods" allows us to import the rich background of cultural and creation theology into our understanding of human making and technology. On these subjects, the scriptures have much to say, about their role both in the present and in the eschaton.
[The final bit of our interview will be up soon with reflections on the "cross" and the "table"…]